USANA Business Opportunity
STEP 1: OPEN 1 BUSINESS CENTER ORSTEP 1: OPEN 3 BUSINESS CENTERSSTEP 2: SHARE USANASTEP 3: MAKE THE MOST OF ITSTEP 4: INITIAL ORDER REWARD
STEP 1 : OPEN YOUR BUSINESS CENTRE(S)

When you join USANA, you'll open
 1
Business Centre
or 
3 B
usiness Centres
, based on 
whether you'd like to start a small business or a large business. You'll earn commissions on your 
product sales through your Business Centre(s).
---
BUSINESS CENTRE: 
Your storefront. Think of opening a Business Centre like opening a physical location for your business. The more Business Centres you have, the more money you can potentially make.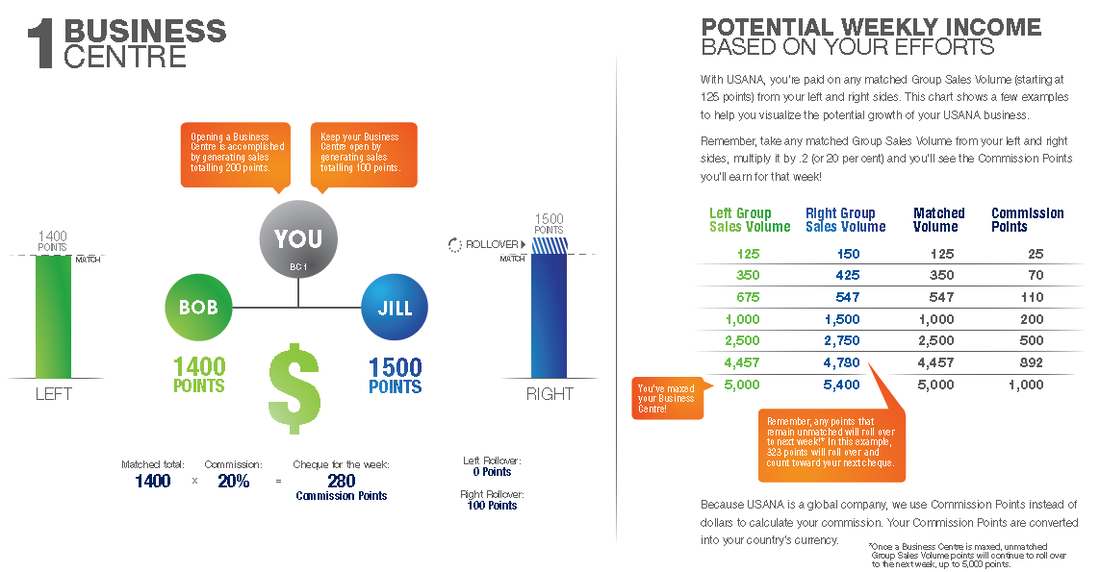 Click here to enlarge image.
USANA made exceptional packages to welcoming you in our business! 
1 BUSINESS CENTER (BC) = 200 POINTS in products
DOUBLE YOUR COMMISSIONS BY OPENING 3 BUSINESS CENTRES
As you build Business Centres two and three, you are simultaneously building Business Centre one without additional effort because the Group Sales Volume in your second and third Business Centres rolls up to your first Business Centre.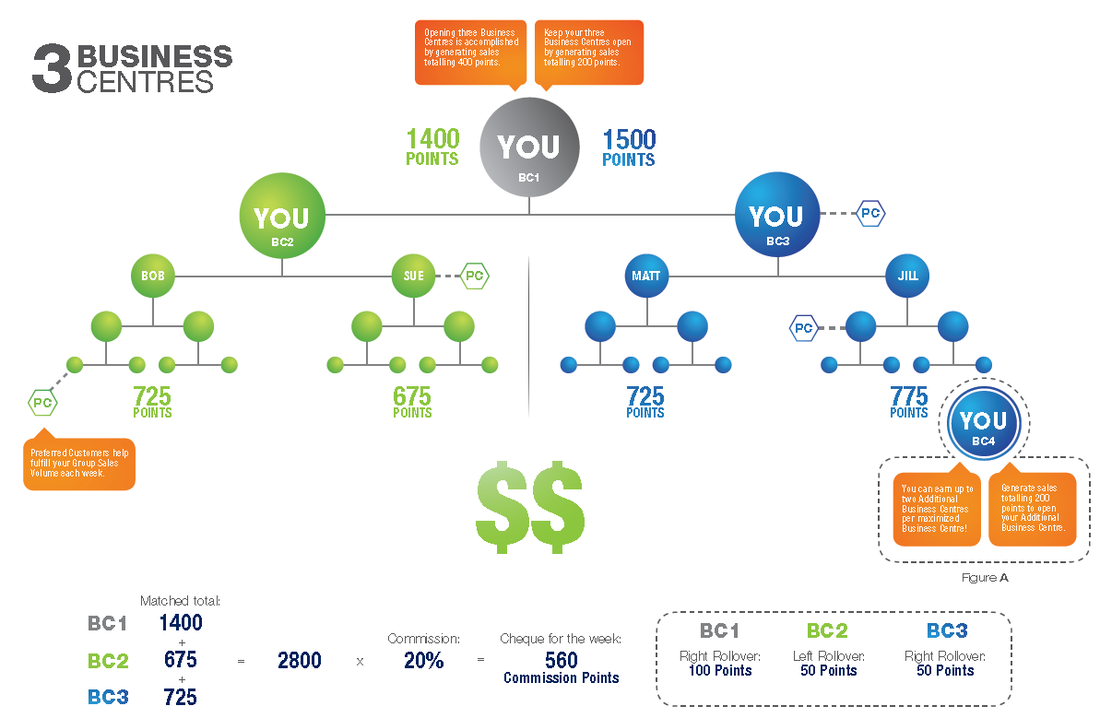 Click here to enlarge image.
USANA AMAZING PACKAGES TO HELP YOU OPEN 3 BUSINESS CENTERS
3 BUSINESS CENTERS = 400 POINTS in products
STEP 2:  

SHARE USANA




Your USANA business is based on  

BINARY COMPENSATION 

PLAN

 

which

 means you'll begin building your business with a left and a right side. You'll earn 

weekly commissions

based on the

 

total number of points

 

you and your team 

collect on each side of your business—this is 

called 

Group Sales Volume, 

and it includes 

sales from both Associates and

 

Preferred 

Customers

 

on your team.




The amount you earn from your USANA business will be in direct proportion to your ability to share USANA's wellness products with other like-minded people, as well as your 

ability to build a team of Associates who, like you, share USANA's products with others and build strong teams of their own.

PREFERRED CUSTOMER (PC):

A USANA customer who receives 

Preferred Pricing on USANA's products, 

but is not eligible to receive commissions 

when they share USANA with others. 

Orders 

by Preferred Customers in your team add to 

your total Group Volume each week.

 

POINTS: 

Each USANA product has a point value. 

This is different from the dollar amount. Points contribute to your overall volume,

which determines your commission.




GROUP SALES VOLUME: 

The cumulative volume of sales (in points) you and your team earn. This is tallied every week, and there is no limit to the number of people in your organization from whom you can earn Group Sales Volume. There are also no monthly Group Sales Volume requirements.

 

---
STEP 3: MAKE THE MOST OF IT


Leverage the income you make through your USANA 

business in a number of ways.

ROLLOVER

You are paid out each week

 on the Group Sales Volume that is the same, or matched, on both your left and right sides. But what about the rest? It becomes rollover for your next cheque (starting at 125).
* Continue to build both sides of your business evenly to take full advantage  of the work of you and your team members.


ADDITIONAL BUSINESS CENTRES 

(FIGURE A)

As you continue to grow your USANA business, you can qualify for 

Additional Business Centres, 

which allow you to increase your income potential.

Whenever you maximize a Business Centre, you earn an Additional Business Centre.

 

 

There are no limits to the number of Additional Business Centres you can earn, which means there are no limits to how big your business can grow.

*Once a Business Centre is maxed, unmatched Group Sales Volume points will continue to roll over to the next week, up to 5,000 points.

 
STEP 4: INITIAL ORDER REWARD – 
START OUT SAVING – SET UP YOUR AUTO-ORDER
Initial Order Reward is available to new 

USANA Associates or Preferred Customers who've placed their first order* and set up 

a recurring order through Auto Order. 

USANA takes 10% of your initial order, splits it in half, and applies that discount to the next two Auto Orders. By simply placing an initial order, you receive a reward. This is in addition to the 10% 

discount all Associates and Preferred 

Customers receive on their products simply for signing up for Auto Order.

*Initial Order Reward is not available with the purchase of established discounted enrollment packs.
Auto-Order
 is exactly what it sounds like—an automatic shipment of your favorite products 
right to your door every four weeks. But it's more than just a convenience. Auto Order is a way to save money, earn 
money, increase retention, and build a stronger foundation for your business. Here's how:
Save money (and time)
Auto Order saves you 10 % on your products. And, the more members of your team who are on Auto Order, the less you have to worry about managing your volume.
AUTO-ORDER
– While not required, it is highly recommended
 that you enroll in the USANA Autoship program when you enroll as an Associate. This will help insure that you will always have the USANA products you need for your business and personal use, and will also help insure that your Business Center(s) remain qualified to earn commissions on your Group Sales Volume. We can help you decide what USANA products you should include in your Autoship order. 

Keep your 1 USANA Business Centre open by generating sales totalling on AUTO-ORDER of 100 points.

Keep your 3 Business Centres open by generating sales totalling on AUTO-ORDER of 200 points.
Are You On The Path Toward Health & Financial Freedom?
Ready to start A PROVEN global business?
Learn about our fantastic products and exceptional direct marketing business and…